The Ranking Member on Parliament's Foreign Affairs Committee has called out the leadership of the Economic Community of West African States after Nigeria extended its border closure until January 31.
Samuel Okudzeto Ablakwa said the decision by Nigerian President, Mahamudu Buhari "is an indication that the matters in issue are indeed moving from bad to worse."
Calling for action, the North Tongu MP charged ECOWAS Chairman, Niger President Mahamadou Issoufou, to call an emergency meeting of Heads of State to address the matter.
The meeting, according to him, must "critically consider Nigeria's conduct and the way forward for genuine Pan-African integration."
"Timely leadership is required at this crucial hour to rekindle confidence in the integration agenda amongst the vast majority of Africans who have become increasingly disillusioned over the years due to the narrow, inward-looking and short term detrimental interest of some African leaders," the opposition lawmaker wrote.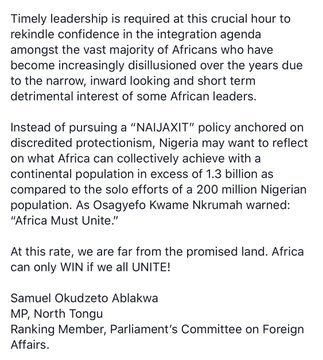 He expressed worry the move may be a dampener on the African Continental Free Trade Area (AfCFTA) which is expected to take off mid-2020.
He added Nigeria should move away from the protectionist move and reflect on what Africa can collectively achieve with a continental population in excess of 1.3 billion as compared to the solo efforts of a 200 million Nigerian population.
"Africa must unite," he said, quoting Ghana's first president, Kwame Nkrumah.
The Parliamentarian had previously said if all diplomacy fails to get Nigeria to open its borders, Ghana should reciprocate and close its borders to Nigerian traders.
Effect on commercial activity
Cross-border traders have meanwhile, felt the effects of the four-month border closure.
Those with perishable goods say they have lost their merchandise while others complain of thieves stealing their goods after weeks of camping at the Benin-Nigeria border.
Prices have also shot up in markets along the Benin side of the border as stocks deplete amid high demand.
Crackdown on smuggling
The Nigerian government, meanwhile, has justified the border closure as a move to crackdown on the smuggling of rice and other food stock across the land borders.
The authorities say they also want to curb the influx of illegal arms into Nigeria through the borders.
Source: Myjoyonline.com